This was too good not to put up.
[gv data="siXL8r6rqGc"][/gv]
I am so glad I don't take this train. Looks like it was taken in the 80s or 90s though.
[gv data="Fk2R_mqV4ts][/gv]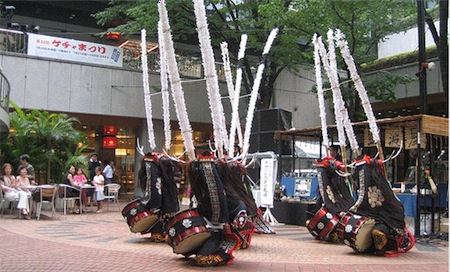 You asked for it, you got it. Straight from my (old) studio to your ears. This episode is 100% sound tour. Put on a pair of nice headphones and sit back to relax to the sounds of the Japan. The following sounds have been recorded during the last year or so and have been collected for your listening enjoyment.
Show Notes:
Short Intro
Clip1: 2007-05-31 Riding the Yurakuchou Line
Clip2: 2007-09-19 Ariake TOC Building 7-11 Guy with Music
Clip3: 2007-06-01 Crows at Waseda University
Clip4: 2007-10-08 Watching Aural Expression Class Video
Clip5: 2008-01-18 Singing Lame SMAP Songs in Class
Clip6: 2007-07-07 Watching Tokyo Bousaikan (Disaster Preparedness Center) Smoke Video
Clip7: 2007-07-15 Awesome French Elevator Music at Doutour Coffee
Clip8: 2007-12-16 Chilling at a Club in Kobe Talking about Cats with Awesome Funk Music in the Background (Guest Appearance: Terrance from Kobe Beef)
Clip9: 2007-12-16 Kobe Planetarium Presentation
Clip10: 2008-04-05 Tokyo Giants Game
Clip11: 2007-09-20 Sumo Tournament Match
Clip12: 2007-08-08 Inside the Shinkanesen (Accelerating with Train Announcements)
Clip13: 2008-04-07 Kanamara Matsuri (a.k.a. Kawasaki Penis Festival)
Clip14: 2008-04-06 Crazy Sounding Cement Mixer
Clip15: 2008-02-10 Cacophonous Sounds in Iidabashi (with commentary)
Clip16: 2007-07-28 Drumming in a Small Park in Shinjuku
Podcast: Play in new window | Download
Subscribe: RSS