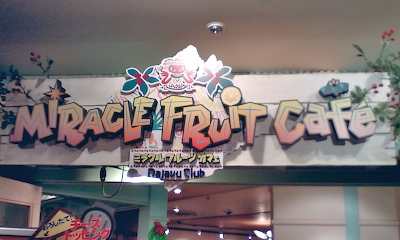 This was something I had been meaning to do since I arrived in Japan. Alex and I headed out to Namco Namja Town in Ikebukuro (map) this past Saturday in search of miracle fruit. I heard about miracle fruit about 6 months ago and was surprised to hear that it was available in Japan. I wrote myself a note and that note popped up in front of me this weekend so off we went.
Miracle fruit is the common name of Synsepalum dulcificum, a berry containing miraculin which has the power to stop sour tastes in their tracks. Alex and I went out to find the Miracle Fruit Cafe in Namja Town and this episode is our audio experience of trying miracle fruit.
Instead of show notes. I'm posting pictures and links here. The show is just us talking.
Show Notes:
Podcast: Play in new window | Download
Subscribe: RSS