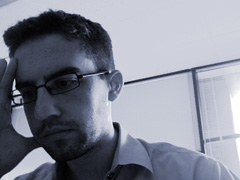 Today I met with my Japanese track advisor, a very intelligent and caring individual. I think we will be perfectly situated to handle the logistics of getting to Japan, getting our applications at Waseda taken care of, securing our visas, and convincing the Japanese government that we are otherwise fiscally responsible and can pay for our year and one-half stay in the land of the rising sun.
What does concern me though is my overall language ability and how much I can improve it within the next 222 days. I went out and purchased my study text for the fall today, complete with an incredible amount of business Japanese. I've only really studied Japanese on my own and until sometime in January, it will continue to be that way. In January we will begin intensive classes before heading to Waseda.
Our workload for regular classes really doesn't allow much time for intensive language study at this point. However, I do want to do try my best to get up to speed. So I guess it starts again, but on another level of task and time management yet unheard of. If I begin speaking Japanese to you with expectations of a reply, simply wack me hard enough to bring my back to the reality of Leadership and Ethics.