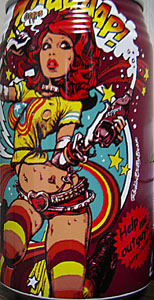 Today's episode is brought to you by this Dr. Pepper Can and the Pepper Chix (http://www.drpp.jp). Woah!
This episode covers a little bit about the website and how to subscribe to the audio versions of this podcast, my trials and tribulations at an Internet cafe in Kamata trying to get some connectivity, Japanese Jehovah Witnesses, the best damn spicy cheeseburger I've ever had, a crazy motorcycle helmet, and more.
Also, I divulge a little bit of my Japanese study plan which seems to be working out. Remembering the Kanji, James Heisig, I couldn't remember the name of this book during the episode.
Don't know who Oruchuban Ebichu is? Lest your curiosity kill you, find out in this episode.
And of course, a quick roundup of some of the best Japanese living podcasts around. Herro Flom Japan, Kobe Beef Show, Tokyo Calling, and A Year in Japan. Check these out.
Podcast: Play in new window | Download
Subscribe: RSS