Take a stroll with me as I take a walk through a park near where I live and talk a bit about lessons in humility. I have a random conversation with a stranger and share some sounds of Tokyo as I walk home. A short episode coming in at 20 mins and little more personal than the rest before. Highly edited due to wind noise however so please bear with me. Hope you enjoy! Mata!
Show Notes:
Unwinding in the park
Getting a haircut in Japan

QB House – 1,000 円 haircut
Had to fix my own hair, ha!

Working in Ariake

The Dream Bridge (picture below)
Building numbers in Tokyo – why they exist

Humbleness, humility, and humanity

Still learning about myself
Placement tests

Random conversation with fellow park-walker
Answering Matt's question on the JR Rail Pass
Random sounds and babble for the last 5 minutes on my way home

I must have a nice ass
National health insurance
Japanesepod101.com
It's Friday night!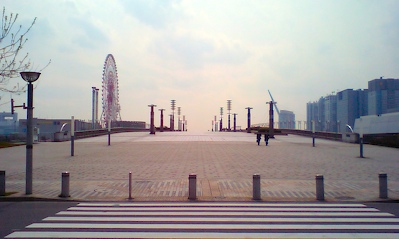 The Dream Bridge in Ariake
Podcast: Play in new window | Download
Subscribe: RSS