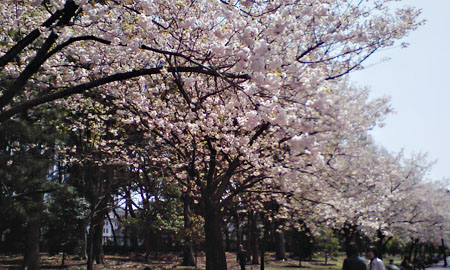 It has been nearly 20 days in Japan and I'm finally, finally feeling settled in. Today I took care of another major hurdle in the chain of bureaucratic events that must occur if you are moving to Japan – the dreaded, yet much needed bank account.
On my way over to Ginza, to find one of the very few Citibank banks in the city, I met up with Scott Lockman from Tokyo Calling. If you are interested in Japan and haven't visited his blog or podcast, please do. Scott is a great guy and every bit as articulate as I thought he might be after listening to his podcasts. We did a short interview with two mics and I captured some audio from my limited setup as well. We chatted about what its like to be in Japan, the future of podcasting, the point of Twitter, and the dangers of giving too much information out in your podcast. Look for some of that in a future episode.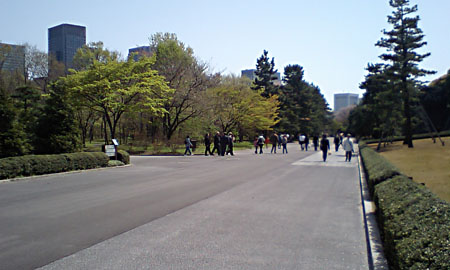 After a nice chat and some coffee, I headed over to Ginza, walking through the emperor's palace a different way this time. I stopped to take a few photos with my new phone and played with my GPS and moving map functions while I sat under the sakura trees. I really had no particular time I needed to be at the bank so I took my time heading on over there.
Working with Citibank in Japan was a breeze. They spoke English very well, and when they found out I spoke a little Japanese, they were delighted and began telling me about all the places I needed to go – Sumo wrestling in Sumida-ku (where I live), Kamakura, and more. Just more to add to the list. I am going to create a big list and hopefully I can visit these places on the weekend. The account took very little time to set up once I had my alien card. However, depositing what remaining cash I had took nearly a 1/2 hour at the teller.
It's so bizarre, some things are so convenient in Japan while others take a very long time and are very procedural. I waited the typical 10 minutes for a free teller, I brought my slip and money up. She took and and told me to take a seat. Fifteen minutes later I returned for my receipt. I'm still trying to figure out why I takes 15 minutes to count money and deposit it. I guess perhaps, they want to be sure it was put in the safe or something. I'll never know because I don't think the cop sitting there would have let me see what was going on behind the scenes.
I then took my time home and did my monthly ritual of going through my finances. Banking online makes living a dual life in American and Japan very convenient. In that regard, thank you Citibank. I have some free time tonight so I am off to study a little more grammar. I will post another episode soon this week, please continue to leave comments and suggestions as always. Take care.