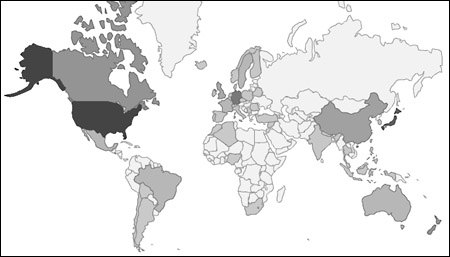 (title translation: Where are you from?)
Wow! That's all I can really say.
I'm sitting here this morning drinking my coffee and exploring Google analytics. This wonderful site tells me today that requests from exactly 69 countries have occurred for content on this site in the past year.
I started this project as a diary to keep track of my trip, my experiences, what I've seen and heard for my family, future children, or perhaps a curious soul sometime in the future. I certainly did not expect such response, and such a global one at that. Arigatou!
But while it may be fun to think that so many people have visited, it's even more amazing to me that I don't know many of the people who come from these countries, let alone much about the countries themselves. My experiences in the world are still so limited and I wish I could travel to many of these places in the future.
So, feel free to put up a quick hello on the comments and let me know where you're may be from. I'd love to learn more about some of the readers of this FindingJapan a little better. Right now, feeling a little like I'm naked on stage. I can't decide if its best to put clothes on or imagine the audience naked too. ^_^