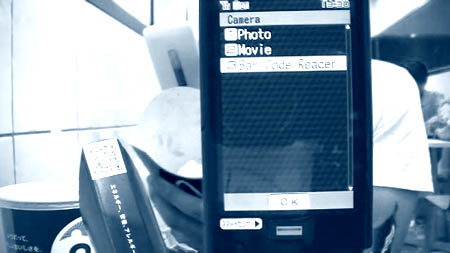 Ok well, maybe not a full episode, but a short one minute clip I put together before heading out for the night. Earlier today, Alex and I tore up Tokyo by bike. Stopping at Akihabara to get an Ebi-Filet, I began playing with my cell phone's bar code reader. I was amazed at how fast it read the bar code.
The bar codes (also known as QR codes) are in a square format and contain text information, usually a URL. In this case, McDonald's publishes all of their nutritional information this way. Want to know how many pounds that Choco-Pie is going to add on? Just whip out your keitai and check it out. Man, I do love Japan! Enjoy!
Upcoming episodes for those who cannot wait to hear, I've got some great material coming up: Getting stopped by the cops on bike in Japan, making elephant characters out of hotdogs (video), and my first full week in a Japanese office. Stay tuned.
Alternative video link (Google Video)
Podcast: Play in new window | Download
Subscribe: RSS